Benefits patients
Painless injections
Design alleviates patient anxiety
Precise metered dosing
Benefits practitioners
Painless injection without training
Automatic dose per dose injection
Improves cooperation in pediatrics
Safer than current syringes
Single use prevents cross-contamination
Limited pressure – no ligament damage
Better oral illumination
World premiere – World leader
Primequal is proud to introduce world-wide the first non-aspirating Single use and disposable Syringe for intraligamentary anaesthesia.
Intended Use
Preciquant™ Painless Anesthesia is an automatic injection device developed especially for painless injections and is therefore very suitable for children and nervous patients. Preciquant™ Painless Anesthesia has an award-winning design which alleviates patient anxiety and features SmoothJect™ which enables a truly painless injection.
Smooth

Ject™
Preciquant™ Painless Anesthesia features the SmoothJect™, a patented pressure-control mechanism which ensures that the liquid is released gradually and without over-pressure.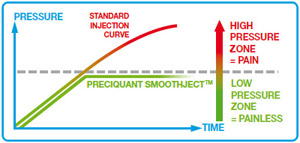 Autom

Inject™
Preciquant™ Painless Anesthesia has been equipped with AutomInject™ for a full automatic dose per dose injection. AutomInject™ produces a « click » sound after every dose, allowing the practitioner to effectively monitor the correct dosage. The treatment is thus greatly simplified to a click based procedure.
No training required
AutomInject™ allows practitioners to perform right from day one a painless injection without any training, saving time and money and providing increased comfort to their patients.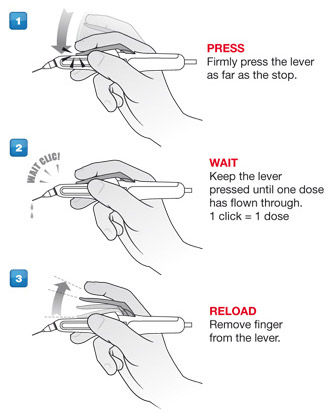 Press and Wait
To take full advantage of the AutomInject™ patented system, (1) firmly press the lever all the waydown. (2) Keep the lever pressed and wait while the dose is automatically released. (3) Release the lever after hearing a click. 1 Click = 1 Dose = 0.06 ml. Depending on the tissue density, the injection of each dose can take from 1 to 6 seconds.
To use all benefits of the AutomInject™ and SmoothJect™, unlike metal syringes, it is important to press the lever firmly down to the end and to wait 1 – 6 seconds that the liquid is injected smoothly.
Dentist Satisfaction
By continuously limiting the pressure, Preciquant™ Painless Anesthesia enables an anesthesia which is truly painless, similarly to what can be achieved with the more cumbersome and expensive electronic injection systems. Preciquant™ Painless Anesthesia is a wrist-manipulated device that has been especially designed to reduce arm weariness. Preciquant™ Painless Anesthesia fits all sizes of hands and its thin nozzle is fully transparent to allow a better oral illumination.
True Innovation
Primequal engineering is dedicated to bring innovative products to help both practitioners and patients in highly original ways. Primequal is proud to invest in true innovation and support practitioners in their daily work. Preciquant™ Painless Anesthesia was born from a market need for a user-friendly, affordable and painless injection system that requires no prior training. Preciquant™ Painless Anesthesia has been designed by dentists for dentists with the help of opinion leaders and extensive in-depth scientific investigation.
Dental Practice Hygiene and Security needs
Preciquant™ was born from a market need for a Single use / Disposable Syringe for dental anesthesia. Most injecting devices are complicated, time consuming, product consuming and energy consuming to clean and sterilize. Re-use of a syringe requires so many steps that any one of them could fail and increase the risk of cross contamination. Single use / Disposable brings this risk to the lowest and only acceptable level: zero.
Award Winner

All Primequal products are award winners within their field of application. Preciquant™ technology received the international Reddot Design Award for its unbeatable ergonomic shape and its smooth curves. Preciquant™ technology was also awarded Innovation of the year by opinion leaders for its effective and reliable children oriented painless injection system.
« Spaceship look » & Design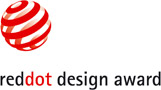 The design was created to make anesthesia a pleasant phase of dental treatment. It may be surprising but it is the first important action to avoid pain. The design is made to be pleasant and to avoid fear and stress. This design has a great success with anxious patients and children because of its « spaceship look ».
The Primequal Preciquant™ has received the International « Reddot Design Award ».
Professionnal ergonomics and unique handling
Preciquant™'s thin nozzle is fully transparent to allow perfect vision of the liquid level and better illumination in the mouth. Preciquant™ is a wrist manipulated product. This increases flexibility and precision while diminishing arm weariness. Preciquant™ is intended to increase comfort and possibilities of use. Preciquant™ is designed for all sizes of hands.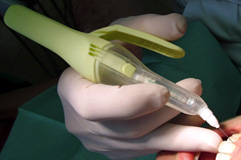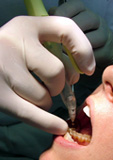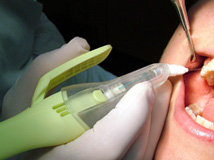 Easy assembly
For Dental Anaesthesia the assembly is made by the end user because he needs to choose the kind of cartridge he will use and the kind of needle he needs. Primequal Preciquant™ is quickly assembled in a very short sequence.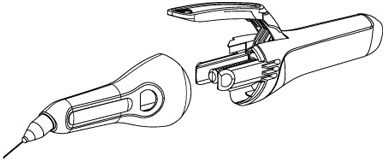 See the assembly sequence in a short video.
Swiss Made

100% Swiss Engineered
100% Swiss Made
100% Swiss Quality
Biocompatibility
Preciquant™ is based on conventional biocompatible materials to avoid any discomfort or risk to the patient. Each material is tested and certified according to ISO / FDA biocompatibility requirements.
Environment friendly
Preciquant™ is based on standard common materials that are fully recyclable. These materials require only a little heat to become a syringe and again a little heat to revert into raw material. Preciquant™ is designed to have the lowest raw material weight possible and this requires the most advanced engineering and manufacturing process.
All our Preciquant™ delivery systems are adapted to the customer's needs and more specifically to the end user's usual practice. Feel free to contact us to submit your application.