What does it do? Why?
Primequal Innovates with an unequalled type of Dispenser - Doser - Injector. Based on a patented lever activated system, Primequal Preciquant™ propels a gauged amount of liquid, gel or paste each time you press on the lever. The precision of the dose is given by the crank step size and the number of pressures that are applied on the lever.
For the first time, a step-by-step doser is available in a single use – disposable device. Fully adapted to each field of application Primequal Preciquant™ is designed for the end user to be at ease and comfortable in everyday use.
The parameters that can be adapted are: size, liquid volume, step size, raw materials depending on the chemicals, with or without glass vials, with or without cartridge, Luer slick, Luer lock, shred, strait needle, needle with a working angle, etc.
Propels liquids, gel or paste
The patented lever-activated system of Preciquant™ multiplies the force needed to propel the content. This allows the Preciquant™ injector to propel not only certain liquids but also gels or paste. Primequal Preciquant™ is especially successful with viscous and gel products: Preciquant™ is the only single-use product that can propel a gel in small metered doses.
Safety against re-use of the doser
The device is made in a way that it cannot be re-opened and cannot be re-filled. When the product to be injected has been expelled, the device locks itself and is then unavailable for a second use. This device therefore offers the highest levels of medical and pharmaceutical safety.
Painless
Preciquant™ is an automatic injection device developed especially for painless injections and is therefore very suitable for children and nervous patients. Preciquant™ Painless has an award-winning design which alleviates patient anxiety and features SmoothJect™ which enables a truly painless injection.
Smooth

Ject™
Preciquant™ features the SmoothJect™, a patented pressure-control mechanism which ensures that the liquid is released gradually and without over-pressure.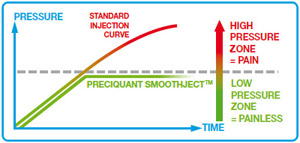 Autom

Inject™
The AutomInject™ patented technology allows the Preciquant™ Dispenser - Doser - Injector to deliver a precise dose each time you press on the lever. It is a full automatic dose per dose delivery from the first to the last dose. AutomInject™ produces a « click » sound after every dose, allowing the practitioner to effectively monitor the correct dosage: 1 click = 1 dose. The treatment is thus greatly simplified to a click based procedure.

Number of doses
The device can deliver from 1 up to 200 clicks. Number of clicks is linked to the application.
No training required
AutomInject™ allows practitioners to perform right from day one a painless injection without any training, saving time and money and providing increased comfort to their patients.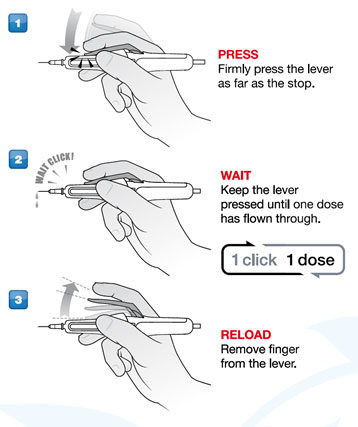 Press and Wait
To take full advantage of the AutomInject™ patented system, (1) firmly press the lever all the waydown. (2) Keep the lever pressed and wait while the dose is automatically released. (3) Release the lever after hearing a click. 1 Click = 1 Dose. Depending on the tissue density, the injection of each dose can take from 1 to 6 seconds.
Airless
The Preciquant™ dispenser uses a patented airless propelling system based on a lever.
Oxygen full protection
The Preciquant™ dispenser can be equipped with a specific nozzle that does not allow oxygen to enter the container. The efficiency of the product to dispense is preserved and treatment efficiency is increased.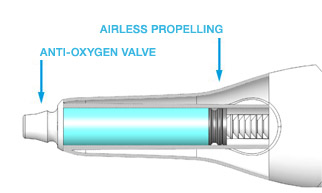 Nano

droplets™
Nanodroplets™ patented technology allows to uniformly cover a surface with droplets. Size of droplets and spray angle can be set from a catalogue of different spray nozzle.

Award winning handling and looking
Primequal Preciquant™ is a happy winner of the International « Reddot design award ». The Preciquant™ was chosen for the award among 3,203 submissions from 51 different countries. This award is a distinction that explicitly acknowledges the creativity and innovative drive of Primequal and pays tribute to the high quality standards of our products.
Preciquant™ technology was also awarded Innovation of the year by opinion leaders for its effective and reliable children oriented painless injection system.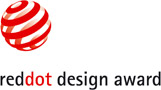 Professional ergonomics and unique handling
Preciquant™ thin nozzle is fully transparent and allows a perfect vision of the liquid level and better illumination.
Wrist manipulated
Preciquant™ is a wrist manipulated product which increases precision as opposed to arm manipulated products such as standard syringes.
With its light weight Preciquant™ is very comfortable to handle.
Preciquant™ is designed for all sizes of hands.
This increases flexibility and precision while diminishing arm weariness. Preciquant™ is intended to increase comfort and possibilities of use.