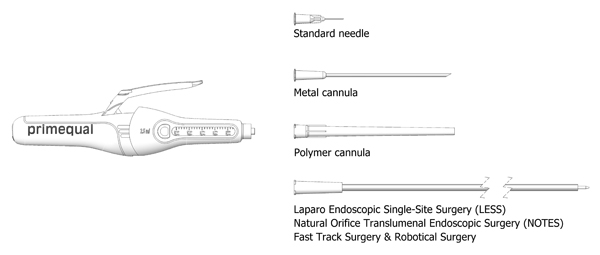 Example: Filled on site Preciquant™ Injector for surgical use.
Proposal
Device is delivered empty, filled on site just before it is applied.
Identical to a standard syringe pumping out from a vial.
Precise dosage is required once or regularly.
Distributes liquids, viscous products, gel, paste and devices.
Can be mounted with a needle, cannula or custom tips.
Effortless delivery of viscous products.
Examples: drugs, special treatments, oncology, antibiotics, bone grafting, collagen, hyaluronic acid, adhesive, radioactive products, stent, RFID cartridge, bio implants, Laparo Endoscopic Single-Site Surgery (LESS), Natural Orifice Translumenal Endoscopic Surgery (NOTES), Fast Track Surgery & Robotical Surgery.
Automatic dose per dose precision
The AutomInject™ patented technology allows the Preciquant™ Dispenser - Doser - Injector to deliver a precise dose each time you press on the lever. It is a full automatic dose per dose delivery from the first to the last dose. AutomInject™ produces a « click » sound after every dose, allowing the practitioner to effectively monitor the correct dosage: 1 click = 1 dose. The treatment is thus greatly simplified to a click based procedure.

Number of doses
The device can deliver from 1 up to 200 clicks. Number of clicks is linked to the application.
Endoscopic delivery tool
The Preciquant™ can be use as an endoscopic delivery tool to deliver a mastered dose on a precise location. Device is adapted to the procedure, the trocar and the product to be delivered.
Multi viscosity
The patented Preciquant™ Injection system expels liquids, viscous products, gels or paste. This is made possible by the lever that multiplies the injection force and allows a comfortable, strength free, dose per dose delivery of the product up to 100'000 cps (Centipoise).
For more information see Preciquant™ technology page.
For more information on available options see Preciquant™ technology options page.
Refrigerated product compatible
The patented Preciquant™ Injection system is compatible with refrigerated products and refrigerated shelf life.
Oxygen full protection
The Preciquant™ dispenser can be equipped with technology that does not allow oxygen to enter the container. The efficiency of the product to dispense is preserved and the treatment efficiency is increased.
Ultimate spray
Nanodroplets™ patented technology allows to uniformly cover a surface with droplets. Size of droplets and spray angle can be set from a catalogue of different spray nozzle.
Professionnal ergonomics and unique handling
Preciquant™ is a wrist manipulated product. This increases flexibility and precision while diminishing arm weariness. Preciquant™ is intended to increase comfort and possibilities of use. Preciquant™ is designed for all sizes of hands.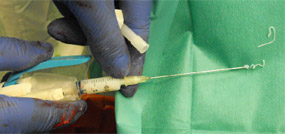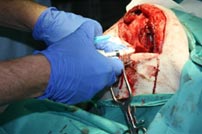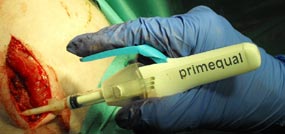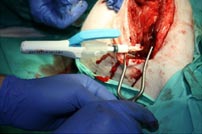 Example: Surgical delivery of highly viscous gel and paste
European Research FP7 Success Story
All Primequal products are award winners within their field of application. Use of Preciquant™ technology for surgical application was first part of an EU FP7 Research Grant that demonstrated that the surgical procedure could be enhanced with a Preciquant™ delivery tool: dose mastery, precision of the delivery spot, effortless delivery of viscous products, speed, superior fillings, use of long cannulas and enhanced tactile feedback during the procedure.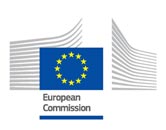 Identical manufacturing process
The Preciquant™ is adapted to the customer's current manufacturing process. It can be integrated in the process without requiring a new qualification and validation of the process.
Specific manufacturing process
In some medical products the manufacturing process is strongly linked to the container (primary packaging) that can be for example a glass vial or a cartridge. For this kind of specific application there are some versions of the Preciquant™ where the front part is no longer the container but becomes a container carrier (secondary packaging), such as for the dental anesthesia application or hyaluronic acid.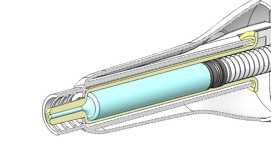 Example: Preciquant™ Injector adapted to work with standard pre-filled glass vials
Delivery and licensing
The device can either be delivered in bulk, assembled, filled, packed, boxed, clean or sterile. The manufacturing, filling, assembly and packaging can be made by Primequal, a sub-contractor of the customer or by the customer himself based on a license. Primequal can process the device in ISO clean rooms (8, 7, 5) and through multiple sterilization technology.
Biocompatibility
Preciquant™ is based on conventional biocompatible materials to avoid any discomfort or risk to the patient. Each material is tested and certified according to ISO / FDA biocompatibility requirements.
Environment friendly
Preciquant™ is based on standard common materials that are fully recyclable. These materials require only a little heat to become a syringe and again a little heat to revert into raw material. Preciquant™ is designed to have the lowest raw material weight possible and this requires the most advanced engineering and manufacturing process.
All our Preciquant™ delivery systems are adapted to the customer's needs and more specifically to the end user's usual practice. Feel free to contact us to submit your application.