Example 1: Dermal Filler - Hyaluronic acid Injector

High viscosity gel
Dose per dose delivery (volume)
Pre-filled dispenser delivered in a sterilized blister
Straight needle system
Luer-Lok system
COC medical grade primary packaging
Fully biocompatible materials
Fully recyclable materials
Example 2: Dental anesthesia syringe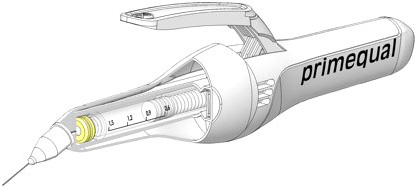 Needle with an angle
ISO Thread for the needle
Adapted for dental vials – cartridge
Adapted step size and overall volume
Fully biocompatible materials
Fully recyclable materials
Weight is 16g !
Example 3: Hormones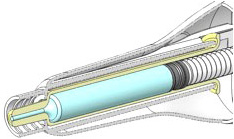 Preciquant™ is adapted to work with Glass standard Vial (in yellow) as secondary packaging.
Some high tech products are linked to their manufacturing process and the initial container cannot be changed. Preciquant™ can simply be adapted to receive the glass vial or cartridge and provide a dose per dose delivery of the product.
Example 4: Creams or Rapid Glues

Nozzle
Airless dispenser
Oxygen full protection
Adapted step size and overall volume
Fully recyclable materials
Thread for a cap